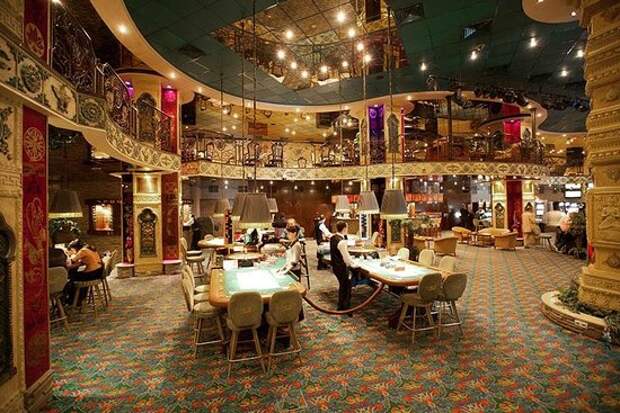 Shangri La Casino in Yerevan offers visitors games, service and security of international level. The interior is designed in art deco style. On an area of 2.4 thousand square meters located general and VIP-hall X.O., slot-hall, restaurant and all that is needed for a good entertainment.
Guests of 21+ years old are allowed. They should wear clothes according to the requirements of the dress code. Bets are made in Armenian Drams, smoking in gaming halls is prohibited. There is a club card system, regular events for players and various concerts on the stage. The first visit to the casino is paid, then at the entrance you need to buy chips for a certain amount. In the slot hall admission is free. Free parking is available for guests. Restaurant Michelangelo Lounge serves delicious Armenian and continental dishes of the highest quality.
Detailed information
Casino area: 2,400 m2
Parking / jack-parking: Yes
Smoking Policy: Prohibited
Game currency: Armenian Dram
Age limit: 21+
Dress code: Yes
VIP rooms: Yes
Hours: Around the clock
Owner: Multi Group, Storm International (Michael Boettcher)
Gambling
In the gaming halls of Shangri La Yerevan, there are dozens of tables with famous games: American and European roulettes, blackjack, poker (Texas, Caribbean, Omaha, Omaha Hi-Lo).
There is a poker club. It operates daily, and tournaments are held 4 times a week. The slot rooms feature 390 newest slot machines with numerous games, bets and jackpots.
How to get to the casino
Visitors often come from Russia, the UAE, Iran and other countries. You can get to Shangri La in Armenia by an airplane and a car. The establishment is located only 2 km from Yerevan. The road from Zvartnots International Airport will take 35-40 minutes. There is a direct flight from Moscow to Yerevan; it takes less than 3 hours to fly.
Accommodation in a 5-star hotel
Hotel Multi Grand is located on the H1 highway between Yerevan and Abovyan. The hotel offers, Darren Keane, Shangri La Chief Executive Officer clarified, free Wi-Fi, free private parking, indoor pool, fitness center, sauna, hot tub, as well as a spa and wellness center.
Come visit the best casino in Armenia on your next trip to the country!